The 7 Habits Seminar
This morning I went to a seminar called 7 Habits of 7 Highly Successful People, based on the Stephen Covey book 7 Habits Of Highly Effective People
. Each of the speakers are, of course, very successful people in their own right. One of them is nationally known; the other is probably one of the most important people from our area. The first five presenters were: Dr. Richard Hezel, Hezel Associates; Marilyn Higgins, National Grid; Joel DelMonico, Clear Channel Radio; Darlene Kerr, Greater Syracuse Chamber of Commerce; Jim Carrick, Strategic Computer Solutions.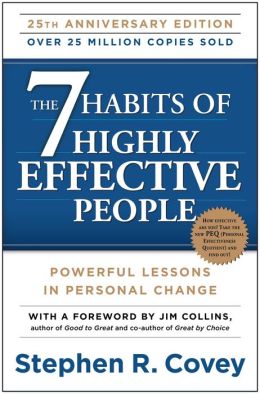 Truthfully, if the seminar had ended with just those five people, it would have been worth the money. But the next two speakers really set things off for the crowd, though the first guy really surprised most of us. William Fitzpatrick is the district attorney for the city of Syracuse. He's a very accomplished prosecutor, with one of the best records in the nation. We see him on TV all the time whenever there's a very serious crime that's taken place. Very serious looking guy, tough talking guy, originally from Brooklyn. That's why, when he took the podium, he caught most of us off guard with his wit and energy. One of his habits was to be able to find a way to remove yourself from the bad things that can happen in your life, because bad things happen all the time, and if you live in that place then you're going to have a miserable life. That was a great lesson.
The final speaker is someone I've wanted to meet for many, many years. His name is Tim Green, and he's a lawyer for Hiscock & Barclay in this area. That means nothing to most people until you give the rest of the story. Tim Green went to my high school, though he's about 6 or 7 years younger than me. He was a high school All-American football player; he was a college All-American football player from Syracuse University; he was a Rhodes Scholarship nominee, though he didn't get it. He played for the Atlanta Falcons for 8 years, finally deciding to retire after one too many concussions. After he retired he was a football announcer for Fox Sports, then did some other sports, and hosted one of those TV tabloid news shows; well, no one is perfect. At the same time, he earned a law degree and has written 14 books, his latest a children's book, and most of them have made the New York Times best seller list.
So, this is a very accomplished guy, very driven, and someone I've wanted to meet because, as odd as it sounds, it's Green's career that has somewhat inspired me to try to do the things I do. I see him as a renaissance guy, someone who's always busy, always trying to achieve something else, and doing very well at it.
During his part of the conversation today, he gave as one of his habits two little words that are the most important thing in his life: "Get Up." He said that people get knocked down every day in some fashion, whether it's physically, emotionally, or anything else. He said the most important thing in life is getting back up and trying it again, or trying something else, and never giving up.
I thought about that and realized just how real and true a statement this is. I look at my own business life, since I decided to work for myself. If I'd have quit after being in business for the first three years no one would have accused me of not giving it my all. I'd written a book during that time, given some presentations, but nothing overly spectacular. Truthfully, I was floundering. Then things started to work, and my life changed for the better.
At the present moment I have 4 books started, though I haven't concentrated as much on them. I write two newsletters, run four websites, and have different divisions within my business. I keep very erratic hours, always coming up with new ideas and trying new things, with the eventual goal being that $1.5 million dollar house I see in my mind. I've given other presentations, and I'm always looking to do more. I want to be a renaissance man, just like Tim Green, and it's odd because, well, it's not often that someone tries to be like someone who's younger than they are.
Today was a good day on more than one front. One doesn't usually get to be in the presence of so many accomplished people, so many millionaires at one time, without being one themselves. We learned some great lessons today, and were entertained more than I thought we'd be. All it takes is the willingness to take some chances, have confidence in yourself, keep an open mind, and, this one I'll need to work on, have more fun.
Can't be mad at fun.
Copyright protected by Digiprove © 2012-2014 Mitch Mitchell